FOR IMMEDIATE RELEASE
Monday, February 10th, 2020
NBC SPORTS PHILADELPHIA ANNOUNCES EXCITING PHILLIES SPRING TRAINING COVERAGE AND HIGHLIGHTS
10 Spring Training Broadcasts Available on Multiple Platforms
Making the Trip Digital Series Recaps Jim Salisbury and Ricky Bottalico's Road Trip to Clearwater
PHILADELPHIA- (February 10, 2020) – NBC Sports Philadelphia, the home of the Authentic Fan, announces plans for coverage of the 2020 Philadelphia Phillies Spring Training.  In addition to game broadcasts and multiplatform coverage of the team, NBC Sports Philadelphia debuts a new digital-exclusive series Making the Trip.
Tom McCarthy, John Kruk, Ben Davis and Gregg Murphy will call 10 games during Spring Training. Fans can watch the games on-air, on NBCSPortsPhiladelphia.com, or on the MyTeams app.
Phillies Insider Jim Salisbury and baseball analyst Ricky Bottalico drove from Philadelphia to Clearwater, and NBC Sports Philadelphia documented the trip. Fans can watch the Making The Trip digital series on nbcsportsphiladelphia.com starting today.
Throughout Spring Training, Salisbury will provide extensive player, coaches and management interviews, plus breaking news and in-depth features on all of NBC Sports Philadelphia's platforms. You won't want to miss the always informative and entertaining Phillies podcast with Corey Seidman and Ricky Bottalico available here: Phillies Talk (formerly At The Yard).
Spring Training Broadcast Schedule: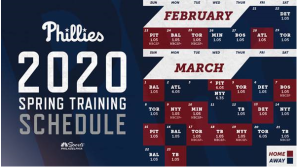 -NBC Sports Philadelphia-