FOR IMMEDIATE RELEASE
Wednesday, December 26th, 2018
LIVE STREAMING COVERAGE OF SUPER BOWL LII, PYEONGCHANG WINTER OLYMPICS & FIFA WORLD CUP POWERS NBC SPORTS DIGITAL TO BEST YEAR EVER IN 2018
NBC Sports Delivered 90,000 Hours of Streaming Coverage Across More Than 30,000 Events for 6.5 Billion Minutes
Streaming Records Set for NFL, NHL, NASCAR, MLB, NBA, Golf, Horse Racing, Premier League, Notre Dame Football, and Olympics Coverage
NBC Sports-Yahoo Digital Partnership Sets February comScore Record with 93 Million Uniques
NBC Sports Gold Expands to 14 Passes; Playmaker Media Adds NBC News, NESN and Formula One
STAMFORD, Conn. – December 26, 2018 – On the strength of live streaming three of the biggest sporting events in the world — Super Bowl LII, the PyeongChang Winter Olympics, and Spanish-language coverage of the FIFA World Cup — NBC Sports Digital delivered its best year ever in 2018.
The record year is highlighted by 6.5 billion minutes of consumption for more than 90,000 hours of streaming coverage across more than 30,000 events, all powered by NBC Sports' Playmaker Media. The year also  set new streaming records for Sunday Night Football, the Stanley Cup Final, the Stanley Cup Playoffs, Premier League, Notre Dame Football, the Triple Crown, and the NASCAR Cup Series, as well as regional streaming records for MLB, NBA, and NHL.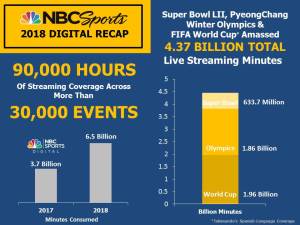 In 2018, NBC Sports Digital also grew Playmaker Media, its technology service which provides end-to-end support, by adding NBC News, Formula One, and NESN as clients. It also added six sports passes to NBC Sports Gold, expanding its direct-to-consumer streaming service to 14 total passes.
Following is a recap of NBC Sports Digital's success in 2018: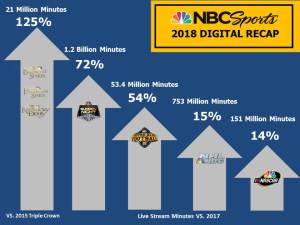 Fueled by NBC Sports' digital coverage of the PyeongChang Winter Olympics and Super Bowl LII, NBCSports.com and Yahoo.com set a new sports category record in February with 93 million unique visitors. This marks the most unique visits since August 2016 when comScore's sports category record was set on the strength of the 2016 Rio Olympics (110 Million).
Sunday Night Football achieved its most-streamed season to date. Through 17 games, SNF live streaming has already delivered 11.8 million uniques and 1.2 billion minutes, up 76% and 72%, respectively, over last season.
The 2017-18 NHL season (194 games) set digital streaming records in all key metrics delivering a record 4.7 million uniques and 753 million minutes, up 80% and 15%, respectively, over the previous season.
Justify's Triple Crown victory set streaming records in all key metrics, delivering 653,000 uniques and 21 million minutes, up 26% and 125%, respectively, vs. American Pharoah's Triple Crown in 2015, making it the most-streamed Triple Crown in history.
Live streaming of the 2018 Notre Dame Football season totaled 768,000 uniques and 53.4 million minutes, up 52% and 54%, respectively, over 2017, the most for a Notre Dame Football season on record.
Across NBC Sports digital platforms, NASCAR saw its best season ever, finishing with 1.2 million uniques and 151 million minutes, up 11% and 14%, respectively, over 2017.
Golf Channel had its best year ever for live streaming, short-form video, monthly uniques, and page views – which crossed the one billion page views annual mark for the first time ever. In total, Golf Channel's digital properties delivered a record 4.5 million uniques and 645 million live minutes, up 62% and 60%, respectively, over 2017.
The 2017-18 Premier League Season (230 matches) set records with four million uniques, up 35% from the previous season. In calendar 2018, the Premier League earned three of its Top 8 most-streamed matches ever.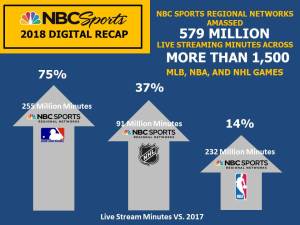 Through November, 2018 is already the most-streamed year in NBC Sports Regional Network history, with 579 million minutes across more than 1,500 MLB, NBA, and NHL games.
Super Bowl LII was the most live-streamed Super Bowl ever and the most-streamed single-game ever among all sports. Fans live streamed 633.7 million minutes of Super Bowl Sunday coverage across 6.1 million unique devices, up 185% and 112%, respectively, from NBC Sports' last Super Bowl live stream in February 2015.
The PyeongChang Winter Olympics delivered 1.86 billion live minutes and was consumed across 32.8 million unique devices. It supported an Average Minute Audience of 211,000 viewers for the primetime presentation of the Games across 10 different platforms. The PyeongChang Winter Olympics delivered more than four times the live minutes of the Sochi Games (420 million minutes).
Telemundo's Spanish-language live streaming coverage of the FIFA World Cup delivered 1.96 billion minutes and reached 15.5 million uniques, generating a record-setting 130 million live streams.
INNOVATIONS
NBC Sports Gold: NBC Sports Gold, NBC Sports' direct-to-consumer live streaming product, added six new passes in 2018 – Figure Skating, Speed Skating, Supercross, Philly, Snow, and PGA TOUR LIVE. It now offers 14 individual sports "passes" – eight domestic (PGA TOUR LIVE, Premier League, Cycling, Track & Field, Speed Skating, Rugby, Supercross, and Snow, consisting of seven Olympic winter sports); two regional (Blazers and Philly); one combination (Supercross and Pro Motocross), two domestic and international (Figure Skating and Pro Motocross); and one international-only (Notre Dame Football). In 2019, NBC Sports Gold will add INDYCAR and Premier Lacrosse League.
Playmaker Media: In 2018, Playmaker Media powered NBC Sports' streaming efforts for Super Bowl LII, the PyeongChang Winter Olympics, and Telemundo's Spanish-language presentation of the 2018 World Cup. The three events combined for an unprecedented 4.37 billion live streaming minutes, while Playmaker totaled 6.5 billion minutes for all of 2018. Playmaker also added three new clients in 2018 – NBC News, NESN, and Formula One. A company owned by NBC Sports Group and operated by NBC Sports Digital, Playmaker Media launched in May 2016 to provide end-to-end video support service for companies in need of best-in-class live streaming and VOD solutions.
Digital Content Series: In 2018 NBC Sports Group debuted Peter King's new "Football Morning in America" weekly column exclusively on NBCSports.com; the second season of Draftsville, a Friday Night Lights parody; Desert Gold, a short-form feature series on NBCSports.com, Facebook Watch and YouTube about the Vegas Golden Knights; and The LoweDown, a Premier League weekly recap with Rebecca Lowe. NBC Sports Group also added a Snapchat only Premier League weekly highlight show "Extra Time."
Rotoworld: In 2018, Rotoworld introduced daily fantasy sports (DFS) toolkits for the first time ever, adding to its cache of premium products. In November, the industry leader in fantasy sports information launched a redesigned, mobile-optimized beta website, and earlier in the fall debuted Instagram and YouTube accounts. Additionally, Buffalo Wild Wings became a presenting sponsor for Rotoworld Live, the website's weekly NFL Sunday show.
SportsEngine: NBC Sports Group's youth sports technology provider deepened its relationships with the U.S. national governing bodies. By using the SportsEngine.com Youth Sports Directory to feature their sport and promote participation, SportsEngine helped USA Track & Field, USA Swimming, USA Volleyball, USA Diving, U.S. Ski and Snowboard and USA Wrestling learn more about their sports and sign up for affiliated youth sports organizations. In the fall, SportsEngine provided on-site support for NBC Sports' coverage of the Youth Olympic Games in Buenos Aires, Argentina, and used its social and editorial presences to highlight youth athletes throughout America. Over the past year, the company added five million new active athletes to the platform, and now serves 15 million youth athletes.
eSports: Universal Open Rocket League – NBC Sports Group and FACEIT's annual esports tournament which features the best Rocket League players in the world competing 2v2– expanded in its second year, hosting the Grand Finals for the first time at NBC Sports Group's International Broadcast Center in Stamford, Conn.
— NBC SPORTS DIGITAL —