FOR IMMEDIATE RELEASE
Thursday, May 3rd, 2018
ROTOWORLD.COM'S COVERAGE OF THE 2018 NFL DRAFT DRIVES SIGNIFICANT INCREASES IN KEY METRICS
NFL Draft Coverage Fuels Increase in Uniques, Visits and Page Views Across 'NFL' and 'NFL Draft' Sections
Rotoworld.com's 'NFL Draft' Section Up 23% in Uniques, Visits & Page Views vs. 2017
Senior Football Editor Evan Silva's Mock Draft Ranks No. 1 Among Industry Experts, According to The Huddle Report
STAMFORD, Conn. – May 3, 2018 – Rotoworld.com's first-in-class coverage of the 2018 NFL Draft from Thursday, April 26, to Sunday, April 29, spiked significant increases in several key metrics across the industry-leading fantasy sports platform, including uniques, visits and page views, compared to its coverage of the 2017 NFL Draft.
BY THE NUMBERS

Rotoworld.com's 'NFL Draft' section totaled more than 100,000 uniques, 161,000 in visits and 330,000 in page views, up 23% vs. 2017 in all categories.
Rotoworld.com's 'NFL' section totaled more than 470,000 in uniques, roughly 1.3 million in visits and nearly 4 million in page views, all up 8% vs. 2017.
Rotoworld.com's Josh Norris' Facebook Live session on Thursday, April 26, garnered 33,000 views.
In addition, Rotoworld Senior Football Editor Evan Silva's industry-leading mock draft ranked No. 1 among draft experts, according to The Huddle Report, as determined by accuracy, players selected in the first round overall, and more.
Coverage of the 2018 NFL Draft began Thursday with a Facebook Live and Periscope session hosted by Norris, who provided instant analysis of Round 1 while also simultaneously lending reaction and commentary on Sunday Night Football's Instagram account. At the conclusion of each day, Rotoworld also produced a special edition of the Rotoworld Football Podcast hosted by Norris and featured guests Raymond Summerlin, Patrick Daugherty and Thor Nystrom. In addition, Silva and Nystrom each wrote instant draft grade columns, while Rotoworld as a whole provided instant analysis for every pick throughout the entire draft.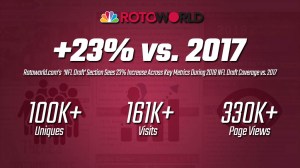 — NBC SPORTS DIGITAL —