FOR IMMEDIATE RELEASE
Wednesday, March 8th, 2017
CSN PRESENTS TOMBOY, A DOCUMENTARY ABOUT GENDER IN SPORTS SUNDAY, MARCH 12 AT 9:30PM
Original Production Aims to Elevate the Conversation about Gender in Sports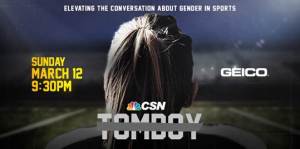 PORTLAND, OR (March 8, 2017) – CSN Northwest proudly joins together with the NBC Sports Regional Networks to present TOMBOY, a multi-platform documentary project that aims to elevate the conversation about gender in sports, told through the voices of many of the world's most prominent female athletes, broadcasters and sports executives.
TOMBOY, presented by Geico, debuts in March to celebrate Women's History Month. The special one-hour documentary airs across all NBC Sports Regional Networks, NBCSN, and select NBC Owned Television Stations, and premieres on CSN Northwest this Sunday, March 12 at 9:30pm.
The documentary includes interviews with longtime champion for gender equality and women's tennis icon Billie Jean King, four-time World Cup champion Lindsey Vonn, Little League World Series pitching sensation Mo'ne Davis, Basketball Hall of Famer Ann Meyers-Drysdale, and many more, including Nadine Angerer and Nadia Nadim of the Portland Thorns FC.
Earlier this week, on Monday, CSN Northwest hosted a TOMBOY Women in Sports symposium at McMenamins Mission Theater, which included a partial documentary screening along with robust conversation about gender in sports. The conversation, led by CSN's Amanda Maynard, featured leading women in sports and sports business in the Portland area: Nadine Angerer (Portland Thorns goalkeeping coach; 2013 FIFA World Player of the Year), Emily Menges (Portland Thorns; 2016 MVP), Anne Peterson (Associated Press sportswriter), and Erin Hubert (CEO Boys & Girls Clubs; former EVP/COO Portland Trail Blazers).
As part of the symposium, in conjunction with TOMBOY, CSN presented a $5,000 donation to the Boys and Girls Clubs of Portland for sports equipment for children who attend the Clubs.
View TOMBOY trailer and more here.
CSN on social media
About CSN
CSN Northwest is the 24/7 home of Northwest sports featuring the Portland Trail Blazers, in-depth regional collegiate action and outdoor programming.  In addition to live event coverage, CSN Northwest offers Emmy Award-winning original programming, news, analysis, and compelling digital content offering fans a comprehensive look at the teams and players that matter most in the region. For more information visit www.CSNNW.com.
About NBC Sports Regional Networks
NBC Sports Regional Networks, part of the NBC Sports Group, consists of 9 regional networks that deliver more than 2,400 live sporting events annually, along with award-winning breaking news, comprehensive analysis, digital content and original programming to more than 43 million homes. The NBC Sports Regional Networks are: CSN Bay Area, CSN California, CSN Chicago, CSN Mid-Atlantic, which serves Baltimore and Washington D.C., CSN New England, CSN Northwest, The Comcast Network, CSN Philadelphia and SportsNet New York. For additional information, visit ComcastSportsNet.com. For more information on NBC Sports Group properties, including press releases, photos, talent and executive bios and headshots, please visit NBCSportsGroupPressBox.com. 
###