FOR IMMEDIATE RELEASE
Tuesday, January 24th, 2017
HOCKEY GOES HOLLYWOOD
NBC Sports Unveils Its Biggest NHL All-Star Game Consumer Engagement Plan Ever
STAMFORD, Conn. – January 24, 2017 – With the movie capital of the world hosting the NHL's biggest stars, NBC Sports is rolling out its biggest NHL All-Star Game engagement plan ever with "Hockey Goes Hollywood." The multi-platform campaign weaves together this year's NHL All-Stars with the glitz and glamour of Hollywood moviemaking, and many of Los Angeles' world famous landmarks.
The 2017 Honda NHL All-Star Game will be played at Staples Center in Los Angeles, Calif., on Sunday, January 29, at 3:30 p.m. ET on NBC. Originally scheduled to be televised on NBCSN, this year's contest will be the first network-television broadcast of the NHL All-Star Game since 2004.
"This campaign is about bringing the stars and the sport to life authentically through the lens of Hollywood, including the movie life that L.A. is known for, and the movies that people know and love," said Jenny Storms, CMO, NBC Sports Group. "With the NHL's Centennial celebration, the game moving to NBC, and spectacle of L.A., we felt this was a special opportunity to bring out the players' personalities in a unique way, and to give fans even more reason to watch All-Star Weekend."
In order to put the campaign together, NBC Sports worked with the NHL and its teams to shoot an unprecedented 10 NHL All-Stars for its numerous promotional spots. The players that participated were Pittsburgh Penguins C Sidney Crosby, Los Angeles Kings D Drew Doughty, Chicago Blackhawks RW Patrick Kane, Chicago Blackhawks D Duncan Keith, Pittsburgh Penguins C Evgeni Malkin, Boston Bruins LW Brad Marchand, Edmonton Oilers C Connor McDavid, Washington Capitals LW Alex Ovechkin, Boston Bruins G Tuukka Rask, and Philadelphia Flyers RW Wayne Simmonds.
The "Hockey Goes Hollywood" plan contains four major content pieces that will come to life across NBC and NBCSN, and as digital and social content:
"Movie Trailer": This content piece is produced in the vein of a Hollywood blockbuster movie trailer; however, its stars are not from the big screen, but rather the frozen ice. Crosby, Kane, Ovechkin, and Rask recite famous movie lines while a deep-voiced narrator bellows phrases such as, "From the creators of the Winter Classic comes the blockbuster event of the season."
"Audition": Are they aspiring actors or aspiring All-Stars? "Audition" forces some of the game's greatest players to audition in front of two insufferable casting agents for an All-Star roster spot in the stereotypical way an actor has to land a job in Hollywood. "Audition" will be used as long-form digital and social content, and will be cut into spots for television. Click here to watch the full video.
"L.A. Landmarks": This promotional video incorporates the NHL into many world famous landmarks of Los Angeles. In numerous iterations, NHL pucks, sticks and equipment are blended into the Hollywood Walk of Fame, Hollywood sign, Capital Records building, and Santa Monica Pier, among others.
Movie Posters: NBC Sports has created four hockey versions of some of the movie industry's most iconic pictures, which will be used extensively across its digital and social platforms. At noon ET on Wednesday, January 25, all NBC Sports and NHL social media accounts will conduct a social media roadblock to promote the game in a coordinated effort, including using the hashtag #HockeyGoesHollywood.
"Rask" plays off of the iconic "Jaws" poster by showing an intimidating mask-wearing Rask under the tagline, "Just when you thought it was safe to go back on the ice."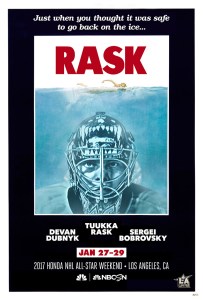 Substituting palm trees for corn stalks, "Rink of Dreams" shows Ovechkin in his Capitals uniform under the tagline, "If you freeze it, we will skate."
Cast in black and white except for large red letters that spell "Sidney," this photo of a uniformed Crosby is a dead ringer for the iconic Scarface poster.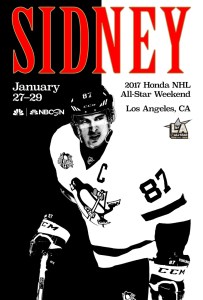 Crosby, McDavid, Montreal Canadiens G Carey Price, and Nashville Predators D K. Subban stare out from above a Zamboni in their best "Fast & Furious" imitation. "Ice is thicker than water," reads the copy.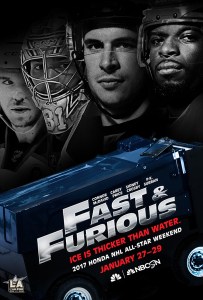 In addition to NBC Sports platforms, all NBC Sports NHL All-Star Game marketing content is being provided to the NHL and its teams for distribution on their respective outlets.
–NHL ALL-STAR GAME