FOR IMMEDIATE RELEASE
Monday, July 18th, 2016
NBC SPORTS GROUP'S TOUR DE FRANCE "TOUR PASS" – JULY 18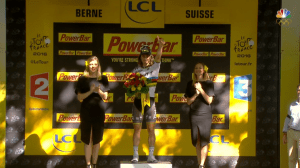 Tour Primetime Tonight at 8 p.m. ET on NBCSN
Steve Porino Speaks with Tinkoff Owner Oleg Tinkov on His Future in the Sport and Peter Sagan Moving to Bora–Argon 18
Live Coverage and Exclusive Features Available on New NBC Sports Gold Premium Cycling App
STAMFORD, Conn. – July 18, 2016 – NBC Sports Group's more than 250 hours of live, primetime, and encore coverage of the 103rd Tour de France continues tonight at 8 p.m. ET with Tour Primetime on NBCSN. Tour Primetime airs each weeknight during the Tour de France and features a look at the day's most compelling action with new analysis, interviews, and updates.
Tonight's Tour Primetime will feature coverage of Stage 16 from Moirans-en-Montagne to Bern, and interviews with stage winner Peter Sagan (Tinkoff) and Tinkoff owner Oleg Tinkov, who shares his thoughts on his future in the sport and Sagan moving to Bora–Argon 18 next year (transcript and preview clip below). The program also features interviews with overall Tour leader Chris Froome (Team Sky), Fabian Cancellara (Trek–Segafredo), Alexander Kristoff (Team Katusha), Mark Cavendish (Team Dimension Data) and Dimension Data Team Principal Doug Ryder. Sagan edged out Kristoff at the line for his third stage win in this year's Tour. Reigning Tour champion Froome kept his overall lead of one minute 47 seconds.
Tour de France coverage continues tomorrow, Tuesday, July 19, at 8 a.m. ET on NBCSN with a "Rest Day" show featuring a look back at the first 16 stages of the 103rd Tour.
| | | | |
| --- | --- | --- | --- |
| Date | Time (ET) | Program | Network |
| Mon., July 18 | 8 p.m. | Tour Primetime | NBCSN |
| Tues., July 19 | 8 a.m. | Rest Day | NBCSN |
| Tues., July 19 | 11 a.m. | Rest Day (Encore) | NBCSN |
| Tues., July 19 | 2 p.m. | Rest Day (Encore) | NBCSN |
| Tues., July 19 | 8 p.m. | Rest Day (Encore) | NBCSN |
In their 31st year working together, Phil Liggett (play-by-play) and Paul Sherwen (analyst) call all live racing for NBC Sports Group's coverage of the Tour de France. Liggett and Sherwen are joined in France by analysts and former professional cyclists Christian Vande Velde and Jens Voigt. Todd Harris hosts daily pre-race and primetime studio coverage, along with analyst Bob Roll. Steve Schlanger, Jenna Corrado and Steve Porino ('Inside-the-Race') serve as reporters.
The "Tour Pass" provides a daily overview of Tour de France coverage, plus information and highlights. It will be published weekdays during the Tour to preview the nightly Tour Primetime show on NBCSN. On Fridays, a weekend edition of the "Tour Pass" will be available.
For more information on NBC Sports Group's overall Tour de France coverage, click here.
TOUR PRIMETIME PREVIEW: OLEG TINKOV INTERVIEW
Reporter Steve Porino spoke with Tinkoff owner Oleg Tinkov after Peter Sagan's stage win this afternoon. Click here for a link to the video, and following is a transcript of the interview:
Porino: "I think it was you that said after Stage 2, if Peter [Sagan] wins two more, you would stay in the sport of cycling.  So can we see you in the future of cycling?"
Tinkov: "Oh in the future for sure, definitely.  But, I am not sure about next year.  I'm afraid Peter has already signed with Bora [Bora–Argon 18] or something.  I think he signed with Bora.  And now it's too late for me, and as far as I know he signed for even more money. Some strange teams like Trek [Trek Segafredo] and Cannondale [Cannondale–Drapac] accused me of inflating salaries, but, in fact, he [Sagan] signed for even more money than I am paying him now. That means that I am not inflating.  And this [NBCSN] is an American channel, so I would like to suggest that the owners of Cannondale and Trek choose better managers. Call me or my manager Stefano Feltrin and get a better contract.  Because, what they're doing now is like Mickey Mouse teams.  For such huge brands, big American cycling brands, they do nothing.  I've done more in professional cycling in three years, and built a better cycling team than Cannondale and Trek have 10 years.  That's a shame for American bicycle production."
DIGITAL COVERAGE
In addition to live linear coverage of the Tour de France, NBC Sports Group will once again provide extensive digital coverage of all 21 stages of the race.
NBC SPORTS GOLD: NBC Sports Group's new premium-subscription product for desktops, mobile devices, tablets, and connected TVs, will offer viewers live, commercial-free, coverage of every stage of the 2016 Tour de France. Featuring live coverage of all 21 stages of the Grand Tour races Tour de France and Vuelta a España, Monument Classics including Paris–Roubaix and Liége-Bastogne-Liége, and more than 10 additional races, NBC Sports Gold's cycling package is available for purchase for $29.99 by visiting NBCSportsGold.com.
BROKEN SPOKES – BEHIND THE TOUR WITH STEVE SCHLANGER: Throughout the Tour, NBCSports.com will feature daily, online-only, video features entitled Broken Spokes: Behind the Tour with Steve Schlanger. NBC Sports Group veteran reporter Schlanger will take viewers behind-the-scenes to learn what it takes to cover the grueling, 21-stage race, while also highlighting the beauty of the French countryside, the passionate fans, and the knee-deep mountain mud. Click here for the latest Broken Spokes video, in which Voigt details what kind of music used to get him pumped up for a race.
EVER WONDER?: In the latest Ever Wonder? video, Voigt shows what kind of foods and liquids cyclists eat in the middle of stages during the Tour de France. Click here to view the video.
For more information about NBC Sports Group shows and properties, including press releases, photos, talent and executive bios and headshots, please visit NBCSportsGroupPressBox.com.
— NBC Sports Group —