FOR IMMEDIATE RELEASE
Thursday, July 14th, 2016
NBC SPORTS GROUP'S TOUR DE FRANCE "TOUR PASS" – JULY 14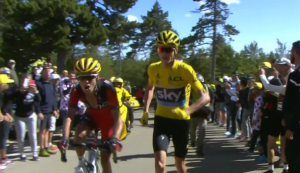 Tour Primetime Tonight at 8 p.m. ET on NBCSN to Feature Interviews with Chris Froome and Richie Porte After Their Stage 12 Crash
Live Tour de France Coverage Continues Tomorrow at 7:30 a.m. ET on NBCSN
STAMFORD, Conn. – July 14, 2016 – NBC Sports Group's more than 250 hours of live, primetime, and encore coverage of the 103rd Tour de France continues tonight at 8 p.m. ET with Tour Primetime on NBCSN. Tour Primetime airs each weeknight during the Tour de France and features a look at the day's most compelling action with new analysis, interviews, and updates.
Tonight's Tour Primetime will feature coverage of Stage 12 from Montpellier to Mont Ventoux, and includes interviews with yellow jersey holder Chris Froome (Team Sky), Richie Porte (BMC Racing Team), and Bauke Mollema (Trek-Segafredo), who were involved in a chaotic crash at the end of today's race. Following the incident, Froome was forced to abandon his bike and continue on foot until he was provided a replacement. Froome was in danger of losing the yellow jersey as a result of the crash, but received a time adjustment and remains the race's overall leader.
The show will also feature interviews with Adam Yates (ORICA–BikeExchange), Team Sky cyclist Geraint Thomas, Sports Director Nicolas Portal, and Team Principal Sir Dave Brailsford, as well as Tejay van Garderen (BMC Racing Team), and Peter Stetina (Trek–Segafredo).
Live coverage of the Tour de France continues tomorrow, Friday, July 15, at 7:30 a.m. ET on NBCSN with the Tour de France Pre-Race Show. Live coverage of Stage 13 from Bourg-Saint-Andéol to La Caverne du Pont-d'Arc will air immediately following at 8 a.m. ET.
| | | | |
| --- | --- | --- | --- |
| Date | Time (ET) | Program | Network |
| Thurs., July 14 | 8 p.m. | Tour Primetime | NBCSN |
| Thurs., July 14 | 12  a.m. | Stage 12: Montpellier to Mont Ventoux (Encore) | NBCSN |
| Fri., July 15 | 7:30 a.m. | Tour de France Pre-Race Show | NBCSN |
| Fri., July 15 | 8  a.m. | Stage 13: Bourg-Saint-Andéol to La Caverne du Pont-d'Arc (LIVE) | NBCSN |
In their 31st year working together, Phil Liggett (play-by-play) and Paul Sherwen (analyst) call all live racing for NBC Sports Group's coverage of the Tour de France. Liggett and Sherwen are joined in France by analysts and former professional cyclists Christian Vande Velde and Jens Voigt. Todd Harris hosts pre-race and primetime studio coverage, along with analyst Bob Roll. Steve Schlanger, Jenna Corrado and Steve Porino ('Inside-the-Race') serve as reporters.
The "Tour Pass" provides a daily overview of Tour de France coverage, plus information and highlights. It will be published weekdays during the Tour to preview the nightly Tour Primetime show on NBCSN. On Fridays, a weekend edition of the "Tour Pass" will be available.
For more information on NBC Sports Group's overall Tour de France coverage, click here.
NOTES & QUOTES FROM COVERAGE OF STAGE 12
Due to fans crowding the course, Richie Porte (BMC Racing Team) crashed into a motorbike in the final kilometer of Stage 12, causing a collision with Chris Froome (Team Sky) and Bauke Mollema (Trek–Segafredo).
Phil Liggett on the decision made by race referees: "The judges had to take the decision they took, there was no alternative. It was a case of false measure. The problem is the crowd stepped into the path of the motorbike and stopped the Tour de France. At that point, I think you had to take the time and you had to be completely fair. I can't blame Bauke Mollema. He was doing what you would do. You grab your bike and go for it. He wasn't trying to gain on anybody, he was trying to finish, but I think what they've done is absolutely the right way to go."
Paul Sherwen on the time adjustment made for riders in the crash: "The overall standings now accurately represent what the riders went through. Who was strong, who was dropped, who was attacking. That was Froome, Mollema and Porte. They've all been moved up in the standings, I think that's the way the results should be."
Christian Vande Velde on the crowds: "This is the pinnacle of our sport. It is what makes the sport amazing, but at the same time we need to make it a little less spectacular. It's already crazy, it's already dangerous. Let's make sure those riders are safe and let's make sure it's still sport at the end of the day."
Vande Velde on the course when Porte crashed: "You can see there are too many people with the flotilla of motorbikes. There are medical motor bikes, the gendarmerie that are there to control the crowd, and then the TV motorbikes. There are just way too many people all wedged in there with no barriers."
Liggett on Froome heading up the course on foot: "This is unbelievable…. you have to carry your bike, not just go up for a country hike in the lanes of Mont Ventoux!"
Sherwen on the incident: "This I have never, ever seen before…talk about drama."
Todd Harris: "There will be fireworks all over France tonight celebrating Bastille Day, but we got an early preview, fireworks in the middle of the day."
DIGITAL COVERAGE
In addition to live linear coverage of the Tour de France, NBC Sports Group will once again provide extensive digital coverage of all 21 stages of the race.
NBC SPORTS GOLD: NBC Sports Group's new premium-subscription product for desktops, mobile devices, tablets, and connected TVs, will offer viewers live, commercial-free, coverage of every stage of the 2016 Tour de France. Featuring live coverage of all 21 stages of the Grand Tour races Tour de France and Vuelta a España, Monument Classics including Paris–Roubaix and Liége-Bastogne-Liége, and more than 10 additional races, NBC Sports Gold's cycling package is available for purchase for $29.99 by visiting NBCSportsGold.com.
BROKEN SPOKES – BEHIND THE TOUR WITH STEVE SCHLANGER: Throughout the Tour, NBCSports.com will feature digital-exclusive videos entitled Broken Spokes: Behind the Tour with Steve Schlanger. NBC Sports Group veteran reporter Schlanger will take viewers behind-the-scenes to learn what it takes to cover the grueling, 21-stage race, while also highlighting the beauty of the French countryside, the passionate fans, and the knee-deep mountain mud. Click here for the latest Broken Spokes video, in which Voigt details what kind of music used to get him pumped up for a race.
EVER WONDER?: In the latest Ever Wonder? video, Voigt shows what kind of foods and liquids cyclists eat in the middle of stages during the Tour de France. Click here to view the video.
For more information about NBC Sports Group shows and properties, including press releases, photos, talent and executive bios and headshots, please visit NBCSportsGroupPressBox.com.
— NBC Sports Group —