FOR IMMEDIATE RELEASE
Wednesday, November 25th, 2015
BYTES: NBCSPORTS.COM GOES BEHIND-THE-SCENES AT THE NATIONAL DOG SHOW WITH JOHNNY WEIR & TARA LIPINSKI
NBC SPORTS DIGITAL "BYTES"
November 25, 2015 – Vol. 76
NBC Sports Digital "Bytes" is a collection of highlights, information and metrics for NBC Sports Digital properties. Previous editions can be found on NBCSportsGroupPressbox.com.
NBCSports.com Goes Behind-The-Scenes at the National Dog Show with Johnny Weir & Tara Lipinski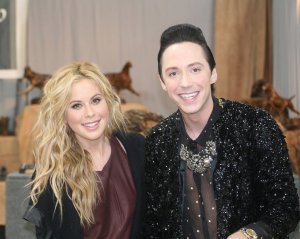 NBC Sports Group's Johnny Weir and Tara Lipinski have covered the Olympics, the Super Bowl, the Kentucky Derby and the Academy Awards (for ABC). Now, they'll take viewers behind-the-scenes of the National Dog Show with digital-exclusive clips on NBCSports.com.
Weir and Lipinski meet the dogs and their breeders, learn the ins-and-outs of dog handling, and find out exactly how much maintenance they require. Click here for a link to the videos.
NBC's broadcast of the National Dog Show begins at Noon ET on Thanksgiving Day.
#WhyImThankful
For the fourth consecutive year, the networks and entities of NBCUniversal will participate in the #WhyImThankful campaign, encouraging users to explain why they are thankful this holiday season by using the hashtag on social media. The #WhyImThankful campaign originated with NBC Sports' coverage of the Thanksgiving night NFL game in 2012, and was extended to the full scope of NBCU in 2013. NBC Sports' social media handles will be pushing out custom graphics, quotes and videos featuring messages of thanks from NBC Sports Group talent including Tony Dungy, Rodney Harrison, Jeremy Roenick, Keith Jones, Mike Milbury, Rebecca Lowe, Kyle Martino, and more.
NASCAR Sprint Cup Championship Coverage Breaks Records for NBC Sports Digital
Kyle Busch's NASCAR Sprint Cup victory and the final bow of Jeff Gordon's iconic career in the Ford EcoBoost 400 was the most-watched NASCAR race on NBC Sports Live Extra, delivering 84,000 unique users and 4 million live minutes, up 126% and 64%, respectively, versus the 2015 Sprint Cup season average. NBC Sports Group offered two options to stream the race on NBC Sports Live Extra – the primary NBC broadcast and NBCSN's spotlight coverage of the four drivers racing for the 2015 title.
In addition, NASCAR Talk has already broken records in the month of November, delivering 3.7 million visits and 7.3 million page views so far, after logging its best month ever in October among visits (3.3 million) and page views (5.9 million).
Sherman's Warriors Season Finale Today on NBCSports.com

The season finale of Sherman's Warriors, the first project of NBC Sport's Group's short-form video initiative NBC Sports Digital Shorts, will be available later this afternoon on NBCSports.com. This six-episode original digital-exclusive series follows former Green Bay Packers head coach Mike Sherman as he takes on a new and different challenge — coaching the Nauset Warriors, a high school football team in Cape Cod, Mass. Though the team has struggled throughout the season, and Sherman's presence has made Nauset a target for other Cape Cod teams trying to take down the ex-NFL giant, the last episode follows the Warriors' last shot to grab a win this season.
NBC SportsWorld's Joe Posnanski took a trip up to Nauset to spend some time with Sherman and discuss his first season as a high school coach. Click here for the long-form story on NBC SportsWorld.
Click here to get caught up with episodes 1-5 and to access 1-2 minute "behind the scenes" clips that will give a deeper look at the players and characters surrounding the football program.
ICYMI on NBC SportsWorld, NBC Sports Digital's Long-Form Website
Nate Ryan examines the career of NASCAR legend Jeff Gordon upon his retirement from the sport. Click here for the long-form story on NBC SportsWorld.
In the second-most viewed story ever on NBC SportsWorld, Joe Posnanki writes about how Peyton Manning went from MVP two years ago to a struggling quarterback this season. Click here for the long-form story on NBC SportsWorld.
— NBC SPORTS DIGITAL —