FOR IMMEDIATE RELEASE
Thursday, November 19th, 2015
BYTES: NBC OLYMPICS LAUNCHES SNAPCHAT ACCOUNT; #ROADTORIO GIVES FANS A SNEAK PEEK AT NBC OLYMPICS' SOCIAL & MARKETING EFFORTS FOR 2016 OLYMPIC GAMES
NBC SPORTS DIGITAL "BYTES"
November 19, 2015 – Vol. 75
NBC Sports Digital "Bytes" is a collection of highlights, information and metrics for NBC Sports Digital properties. Previous editions can be found on NBCSportsGroupPressbox.com.
NBC Olympics Launches Snapchat Account; #RoadtoRio Gives Fans a Sneak Peek at NBC Olympics' Social Media and Marketing Efforts for the 2016 Olympic Games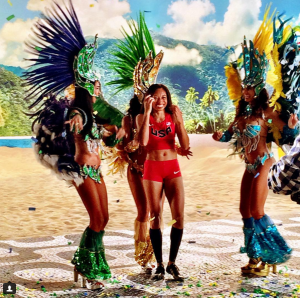 NBC Olympics recently launched its Snapchat account to give fans a behind-the-scenes look at the massive joint effort between NBC Sports and the USOC to capture marketing and social media content this week that will be used in advance of the 2016 Rio Olympics. Over the course of five days, 16 NBCUniversal divisions or programs will capture content from more than 100 Team USA athletes, who will be conducting interviews, posing for photo shoots, changing wardrobes, and interacting with samba dancers (like four-time Olympic gold medalist Allyson Felix is in the photo above), comedians, supermodels and puppies. Although full length content is still under wraps, fans can get a special sneak peek at some of the fun content being created by adding NBCOlympics on Snapchat or via the dedicated #RoadtoRio hashtag on Twitter, Facebook and Instagram right now.
Yahoo Sports – NBC Sports Network Delivers Best Month Ever in October – Ranked No. 2 Among All Sports Digital Sites
For the second consecutive month, the Yahoo Sports – NBC Sports Network delivered its best month ever to rank No. 2 among all sports digital sites in October with 81 million unique users, according to multiplatform data released by comScore.
NBC Sports Group's digital properties also had their best month ever, delivering 52 million unique users, up 57% versus the prior year. Additional highlights include:
com delivered 18.9 million unique users, up 18% versus 2014
Rotoworld delivered 4.4 million unique users, up 11% versus 2014
Comcast SportsNet Chicago delivered 1.9 million unique users, up 193% versus 2014
Countdown To Championship Sunday: NBC Sports Digital & Social Media Surrounds NBC's NASCAR Coverage
As previously announced, to gear up for the NASCAR Sprint Cup and XFINITY Series Championships from Homestead-Miami Speedway this weekend, the NBC Sports Digital and Social Media teams are deploying around-the-clock coverage across all of NBC Sports Digital's platforms this week.
SOCIAL MEDIA: NBC Sports' social media accounts will make sure every fan has an "all access" pass to this week's festivities and Championship races in South Florida. 
In celebration of Jeff Gordon's final career race, the NBC Sports Social Media team created a six-second Vine utilizing a photo from every one of Gordon's 93 wins, available here. NASCAR on NBC is also throwing a #24in24 "throwback Thursday" celebration – during which from midnight to midnight today, NBC Sports Social Media will release a different throwback photo of the No. 24. every hour; will incorporate custom graphics and images featuring quotes from Gordon in its posts; and more.
Click here for more information on NBC Sports Group's social media plans.
NBCSPORTS.COM: This week's content on NBCSports.com includes:
"Road to the Championship Round" features on each of the Championship 4 drivers. Each feature utilizes videos, quotes and expert analysis from motorsports reporters Dustin Long and Nate Ryan. Click here to read the four features.
A personal essay penned by NASCAR on NBC analyst and Jeff Gordon's former crew chief Steve Letarte. Click here for the link to Steve's essay.
Denny Hamlin, Carl Edwards, Jimmie Johnson, Kevin Harvick, Terry Labonte, Justin Allgaier and Kyle Busch share their memories of Gordon and his impact on the sport. View their tributes here
Rick Hendrick talks with Nate Ryan before one of the most exceptional and pressure-filled weeks of Gordon's career. Ray Evernham reflects on being the No. 24 team's first crew chief and assesses the Championship 4 contenders' chances of securing a win in Miami.
NBC SPORTS LIVE EXTRA: In an unprecedented offering, NBC Sports Group will present dual national coverage of the 2015 NASCAR Sprint Cup Championship race from Homestead-Miami Speedway at 3 p.m. ET on November 22. NBC Sports Live Extra will allow users to stream both the primary broadcast of Jeff Gordon's quest to close out his Hall of Fame career in storybook fashion on NBC, and the simultaneous live feed dedicated to each of the Championship 4 drivers racing for a historic victory Sunday on NBCSN in South Florida. Click here for more information.
Warriors-Raptors Game Sets All-Time Multi-Platform Ratings Record on CSN Bay Area, CSNBayArea.com
CSN Bay Area set a network record with 1.1 million minutes streamed for last Tuesday's Golden State Warriors-Toronto Raptors game, surpassing the Warriors-Brooklyn Nets game on Nov. 14, 2015 (877,000 minutes streamed).  Through 11 games, fans have consumed 6.4 million minutes of Warriors games on CSNBayArea.com and via NBA Sports Live Extra. The game was also the highest rated Golden State Warriors telecast in the history of the network with an 8.65 TV household rating, covering approximately 214,826 households (SF DMA – San Francisco/Oakland/San Jose) and posting a 10.51 peak rating during the 9:45 p.m. quarter hour (approximately 261,182 households).
WE LIVE PHILLY SPORTS on CSNPhilly.com

Comcast SportsNet Philadelphia is taking their mantra – WE LIVE PHILLY SPORTS – and using it to engage fans through social media. Fans can show how they "LIVE PHILLY SPORTS," and get their favorite photos up on digital billboards all over the Philadelphia area by posting a photo to Instagram, tagging @CSNPhilly and using the hashtag #iLivePhillySports.  The best photos will be selected to run on digital billboards in the coming weeks.  This initiative provides Comcast SportsNet with a unique way to continue the upward growth of the @CSNPhilly Instagram account, which has added 8,000 followers during the past 10 months.
ICYMI on NBC SportsWorld, NBC Sports Digital's Long-Form Website
Joe Posnanski examines the MLB Manager of the Year award and why Ned Yost has never received a first-place vote. Click here for the long-form story on NBC SportsWorld.
Posnanki also writes about how Peyton Manning went from MVP two years ago to a stuggling quarterback this season. Click here for the long-form story on NBC SportsWorld.
— NBC SPORTS DIGITAL —