FOR IMMEDIATE RELEASE
Friday, September 12th, 2014
NBC SPORTS DIGITAL "BYTES"
September 12, 2014 – Vol. 36
Yahoo Sports – NBC Sports Network Digital Alliance Ranked No. 2 Among All Sports Digital Sites in August
Fueled by Premier League, NFL pre-season and the start of Notre Dame Football, the Yahoo Sports – NBC Sports Network digital alliance ranked No. 2 among all sports digital sites in August with 68.9 million uniques, up 12% versus the prior year, according the multiplatform data released by comScore. The alliance totaled 2.8 billion minutes consumed during the month, also second-best among sports sites.
Final Michigan – Notre Dame Game Is Most-Streamed Notre Dame Football Game Ever
NBC Sports Live Extra's stream of the final meeting of the iconic rivalry between Michigan and Notre Dame delivered the most-streamed Notre Dame game ever among all key metrics. The stream delivered 95,000 uniques and 4.8 million minutes watched, up 175% and 223%, respectively, compared to last season's per game average. The 4.8 million minutes beat the previous record for a Notre Dame game on NBC, set in 2012 (3.1 million minutes, November 3, 2012), by 55%.
SNF Kickoff On Social Media is #1 Show on Thursday According to Nielsen Social Guide
NFL Kickoff was the No. 1 show for both cable and broadcast on Thursday, September 4, according to Nielsen Social Guide. The game delivered 947,000 tweets sent around the time of the broadcast with a unique Twitter audience of 8 million people.
The hashtag #SNF generated 110 million potential impressions during the week (both Kickoff and Sunday) and a total reach of 37 million people. #SNF was mentioned 32,000 times on Twitter during the week, and 23,000 times on Sunday alone.
NBC Sports Regional Networks Kick Off Marketing Campaign for New App
This week, the NBC Sports Regional Networks kicked off local campaigns to introduce the new and improved CSN Local Sports app for iPhone, iPad and Android. Now featuring video, the app also includes up-to-the second breaking news and analysis from CSN Insiders, scores, schedules and much more.
Download the CSN Philly, Chicago, Bay Area, Houston, Baltimore, Washington, or New England app today!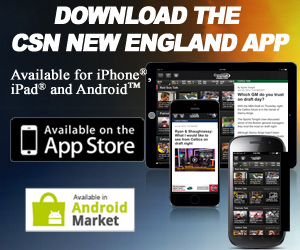 GolfChannel.com Celebrates Arnold Palmer's Birthday
Arnold Palmer celebrated his 85th birthday this week and GolfChannel.com marked the occasion with a collection of stories fit for "The King," written by  its award-winning writers and  including a heartfelt reminiscence by Mercer Baggs after meeting with Palmer at his Latrobe Country Club office.  Golf Channel also aired an encore presentation of the critically acclaimed, three-part Arnie film series, which chronicles the life and legacy of Palmer and became the most-watched original production in Golf Channel history.
Following an overwhelming viewer response, Golf Channel is inviting fans of Palmer to submit videos capturing their personal stories that can be used in a fourth installment, titled Arnie & Me, which is scheduled for a 2015 premiere. A dedicated web page has been designed for Golfchannel.com to collect the most compelling user-generated content.
Around the Web on NBC Sports Digital
Jerry Bonkowski will be at Chicagoland this week for the start of NASCAR's Chase, which will include stories on Dale Jr., Jeff Gordon and leader Brad Keselowski. We've compiled a primer on the Chase here:  http://motorsportstalk.nbcsports.com/2014/09/09/everything-you-need-to-know-about-the-2014-chasers-at-chicagoland/related/
Driver capsules are available here: http://motorsportstalk.nbcsports.com/2014/09/08/nascar-chase-capsules-the-round-up-of-all-16/
— NBC SPORTS DIGITAL —